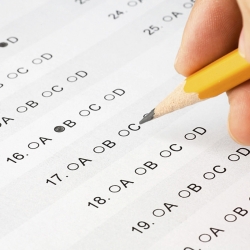 Exam Accommodations Overview
There are a variety of accommodations that may be implemented specifically for exams to ensure students with disabilities are given an equal opportunity to demonstrate mastery on an assessment. Common exam accommodations may include extended time to complete timed exams, the option to use assistive software on an exam, and/or the ability to take an exam in a reduced distraction environment. Please meet with a disability specialist to determine if/what exam accommodations may be appropriate for you.
Once a Disability Specialist has determined you are eligible to receive exam accommodations, it is important to speak with each instructor about how exams are given within that course and how any approved exam accommodations may be implemented. Instructors may choose to provide exam accommodations to you directly or to utilize the DPRC's Exam Accommodation Program to administer the exam with approved accommodations. Speak with your instructor about what may work best for all parties.
All exams are scheduled using myDPRC. For instructions on how to use myDPRC, please visit the myDPRC Training Portal.
Fall 2023 Exam Updates
COVID-19 Health & Safety
Per current SF State guidelines, masks/face coverings are no longer required indoors. However, they are still recommended by the CDC and are preferred at DPRC when interacting with others in common areas and 1:1 with DPRC staff. Masks and face shields are available by request at DPRC reception and in the testing room (SSB 109) when checking in for your exam. The SF State Daily Health Screening is also no longer required, but we ask that students ensure they are not showing up sick to their testing appointments. 
Exam Request Scheduling Guidelines
We ask that students submit an exam scheduling request 3 business days in advance of quizzes; 10 business days in advance of midterms; 20 business days in advance of finals; and 5 business days in advance of all other exams. Late requests may not always be approved and students may need to be rescheduled.
Exam accommodations can be provided by instructors directly outside of the DPRC. If however, it is  determined that taking the exam in the DPRC's Exam Room is the best way to implement your accommodations, please review the following practices to schedule with us to ensure necessary access to all accommodations for that exam. Please note that late requests may require rescheduling of the exam. In all cases, when exams are rescheduled, DPRC will need the instructor's approval prior to confirming the rescheduled exam appointment.
The Student Conduct Code applies to all DPRC proctored exams. Academic dishonesty during an exam may result in immediately stopping the exam and notifying the instructor. Instructors can refer to the student to the Office of Student Conduct (OSC) in Student Affairs/Enrollment Management. Please note that the OSC does not influence grade decisions, but rather administers the Student Conduct Procedure, in accordance with Executive Order 1098.
Please contact the Testing Assistants, at (415) 405-3729 for cancellations, rescheduling of exams, or scheduling pop quizzes. For any other scheduling concerns or questions, contact Terrence Daniels, Exam Accommodations Coordinator at (415) 338-3457.
Before you schedule your exam

Request Alternative Testing in your Accommodations for your courses in the current term. This will send a Faculty Notification Letter via email to your instructor notifying them you are eligible for exam accommodations. NOTE: Any changes to exam accommodations requires prior approval by a DPRC specialist and may take up to two (2) weeks to be applied to scheduled exams. Changes to your accommodations will not occur during an exam.

Scheduling your exam

Log into your myDPRC account and click on "Alternative Testing."
Click on the class you would like to schedule an exam for.
Click on "Schedule an Exam."

If your instructor has selected "I will proctor all exams," please contact your instructor about the arrangements for your exam accommodations.

Schedule all the exams for a single course, including the final exam.
Refer to your instructor's Testing Agreement for the scheduled exam dates and times. If there is no Testing Agreement, refer to your syllabus.

Once you have put in the exam date and time and selected all desired accommodations, submit your exam requests.
The DPRC will then either approve your requests or ask you to reschedule your exam request.
Please note that if you submit a request that does not match what your instructor has listed as the exam date and time, the DPRC may ask you to contact your instructor for permission to take your exam on a different day or at a different time.

During your exam

The exam proctor will ask for your student ID and inspect all exam materials before beginning your exam
Cell phones and other handheld devices must be turned off and left with the test proctor, unless the instructor has designated it as an approved resource on the exam.
You will be allotted the time indicated in your myDPRC exam request, taking your reasonable accommodations into account. The test proctor will stop the test at the designated end time. You may ask the test proctor to give you a 10 minute warning before the end of your exam.
NOTE: If you arrive late to your exam, your end time will remain as scheduled and you will not receive back the time lost. In extenuating circumstances you may your instructor for approval to reschedule the exam.
NOTE: The DPRC may alter the start-time of a student's exam in the event of extenuating circumstances, such as interfering with another course. The DPRC will make every effort to ensure the exam overlaps with the regular course meeting time. Flexible exam date and/or flexible start times for each exam as requested by the student are only authorized by you.
Before the Student Schedules an Exam

Review the student's Faculty Notification Letter.

Scheduling Exams for your Course

Fill out the Testing Agreement by either logging into your Faculty Portal or by clicking on the link in the email sent to you when your student submitted an exam request.

The Faculty Portal can be found under the "Faculty/Staff Resources" tab on the DPRC website. Once you log in with your SFSU credentials, please click on the "Alternative Testing" link on the left side, and continue to the Testing Agreement.
Submitting a Testing Agreement does not schedule an exam for a student. The student must still submit their own exam requests in order to be scheduled in the DPRC. The DPRC will use your Testing Agreement as a reference as to what day(s) and time(s) the student may schedule exams for your course.

The DPRC will email you starting one (1) week in advance of the exam date to request a copy of the exam.

During the Exam

The DPRC may need to contact you if the student has any questions during their exam. Please be available by email or cell phone in the event that the student has questions.
Please visit the myDPRC faculty training portal to learn more about how to complete the Alternative Testing Agreement.