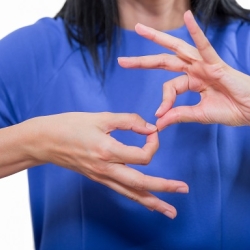 Overview of DHOH services
For new students inquiring about any of the services listed below, schedule an initial meeting with a Disability Specialist, by calling (415) 338-2472 (voice), (415) 335-7210 (VP), or email dprc@sfsu.edu
For current students, request sign language interpreting or real-time captioning services by submitting a Custom Request in myDPRC. For employees, campus partners and visitors, make requests by completing the request form.
DPRC asks that you submit requests at least one week in advance for one-time events and at least three weeks in advance for semester-long courses, for major events, or for livestream or broadcast captioning. While DPRC attempts to fill every interpreting and captioning request, the more advanced notice received, the more likely interpreter(s) or captioner(s) will be found. Deaf and Hard-of-Hearing Services will confirm receipt of your request by email and follow up with additional questions about the request if needed.
Services Offered
Services for students, applicants, employees and guests of SF State who are Deaf or Hard-of-Hearing may include:
Sign language interpreters listen to another person's words, inflections and intent and simultaneously render them in American Sign Language (ASL) or other types of signed communication preferred by the Deaf or hard-of-hearing individual.  The interpreter must also be able to comprehend the signs, inflections and intent of the Deaf or hard-of-hearing individual and simultaneously "voice" them into spoken English.
Real-time captioners transcribe, using specialized equipment and software, spoken communication into conventional written English verbatim.  The Deaf or hard-of-hearing individual is able to follow spoken communication that is displayed in text format on a computer screen or other display device.
DPRC offers two options for real-time captioning: Communication Access Realtime Translation (CART) and TypeWell. CART is a verbatim system through which service providers translate nearly every word spoken into text immediately and accurately. A written transcript can also be produced containing nearly every word that was spoken. TypeWell is a meaning-for-meaning service through which service providers translate spoken language into grammatically correct written language. They typically eliminate false starts, misspeaks, and filler phrases and use visual formatting features, which, in turn, produces a shorter transcript than with CART. More information, including the differences between CART and TypeWell can be found in the National Deaf Center on Postsecondary Outcomes' resource on Speech-to-Text Services. 
If you are planning an event, we recommend reviewing our guide for captioning for web-based events for a review of frequently asked questions about captioning for events.
A device that takes a signal from a microphone or public address system and sends it to a personal amplification system worn by hard-of-hearing individuals.
A video or film with captions reflecting the content of the spoken or descriptive material as well as other auditory elements. Visit the Media Captioning page to learn more.
The DPRC has a few options for note-taking assistance for you to explore so that you may have equal access to instruction. Visit the Note-Taking page to learn more about your options.
Information and tip-sheets
Request Forms